What's with the fucking car-horns? How much better is United's away kit with black shorts? Where does Roberto Moreno* go to collect his paycheck from CONCACAF officials? ANSWER ME!
Goff beat me to it, but I bet a pint that Ben Olsen is the head coach for the start of next season. Preki's success at Chivas, Jason Kreis' relative success at RSL, the precedent has been set. Tom Soehn is plank-walking unless United (a) makes the playoffs and (b) goes deep in the playoffs - someone's gonna pay for this season. If United can't get Mourinho, why the hell not Benny, especially if his ankles are too permanently ruined to play?
UPDATE: Landru wants credit for this from past May.
I do think there is an interesting alternative to Soehn, but I'm not sure that alternative is ready to be a coach yet--evidence indicates that he still thinks he's a player, and may or may not have some reason to think that.
Oh, the game? Industriousness ain't enough if your midfielders are stiffs. Kirk, McTavish, Carroll, Miller were never going to create a goal with two strikers, one name Cordeiro, so they weren't going to create a goal with just one. I admit my fascination with young African strikers with three syllable names starting with K persists. And Zaher serves a mean corner; not mean enough to make up for other deficiencies, but a mean corner.
*Look, the Great Collina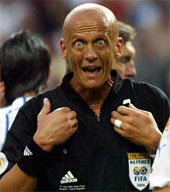 could have refereed this game and United wasn't going to win, so I'm not blaming the loss on Moreno, but I remember watching games with Moreno in the past and being impressed by his fairness and command, so some anti-United bias was up.
Updates, edits, links, later. Or not.