I rarely agree with Slate's John Dickerson, but Cracker Jeebus has delivered with welcome death and destruction in Louisiana.
.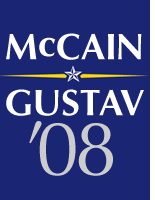 .
Instead of days of canned patriotic anti-Obama bashing, Republicans not only get to act half human and half humane, they get extra days to train Palin and to delay or - gasp - cancel her acceptance speech, and the hurricane deflects attention from the attacks new vetting set against her, plus it further diminishes the glow off the Democratic convention. Sweet!
Anyone who waahs about Republican tactics in using a terrible and destructive natural disaster for political gain gets two minutes in the Pussy Box for fwagwant wankewing.
*
Updates later. Or not.
*
In my head. Be in yours.